The evolution of mobile networks has led to increased speeds and functionality for consumers. The IoT world benefits from these network improvements with widing coverage and stronger connection to deployed devices. However, IoT carriers and customers are experiencing added pressure to stay up-to-date with new network capabilities. As the new networks have risen, old networks are becoming obsolete. This has contributed to the 2G and 3G SIM card sunset for multiple carriers. Understanding the history of mobile networks, network sunsets, and current network options will help IoT offerings optimize their solutions.
The History of Mobile Networks
About 35 years ago, the first generation network (1G) was launched in the United States. 1G was the first network to support voice calling on a mobile device. However, 1G presented its own limitations of spoty connectivity, poor sound quality, and a lack of call privacy. As technology advanced, the 2G SIM card and network were later introduced in 1991 to allow for voice calling, text messaging, and call encryption. In the following years, the subsequent release of the 3G networks enabled internet connection, video streaming, and international roaming capabilities.
In 2009, the Long Term Evolution (LTE or 4G network) became the first network to require a mobile device redesign. LTE provides HD video streaming, and fast web browsing speeds for the majority of current smartphone users. Today, the majority of network providers offer access to the 5G network, the most advanced yet.
The 2G and 3G Sunset
As the mobile network evolution continues, carriers must retire old networks to provide maximum coverage for new networks. This is known as sunsetting. Sunsetting is a term used to signify the phasing out of an old network, in this case the 2G and 3G network. This does not mean your devices will automatically disconnect after a sunset. These networks will slowly become less reliable after time causing connectivity issues.
As a part of sunsetting, carriers will stop offering 2G and 3G SIM card options. In the United States, many carriers have already discontinued their 2G GSM SIM cards. Major carriers are also in the process of sunsetting 3G SIM cards. We have provided a complete chart of the major carriers and their sunset dates.
United States Shutdowns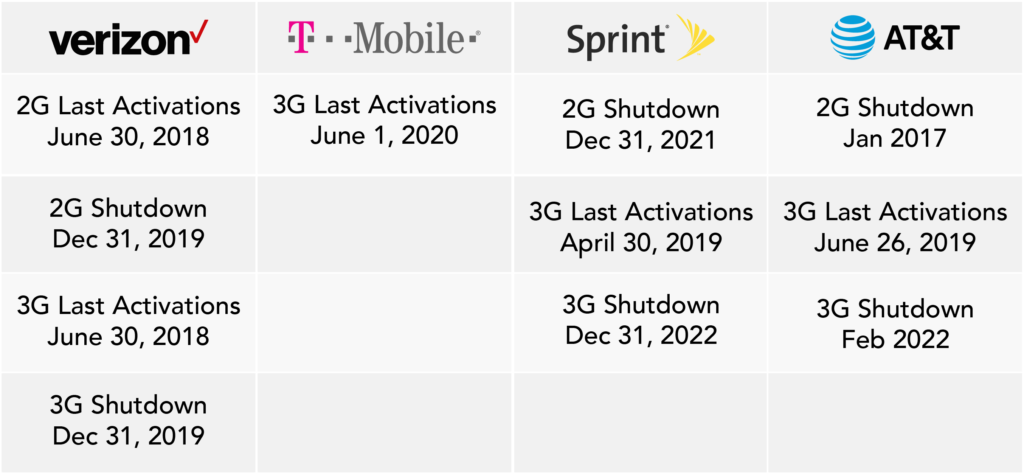 Deployed Device Options
As older networks become obsolete, IoT consumers need to evaluate new network options for their deployed devices fleet. The forthcoming network options will allow consumers to work with increased efficiency and knowledge. There are undeniable benefits to upgrading your network connections to one of these three alternatives.
4G/LTE
The 4G/LTE network is the most widely used network in the United States. LTE provides a wide range of coverage and higher speeds for IoT devices. LTE can be especially useful for remotely tracking company assets for fleets and equipment. If you use battery-powered devices, be aware that a steady LTE connection can use more battery.
NB-IoT
NB-IoT is a great alternative to 4G/LTE modules because it's a highly efficient and low-cost option. NB-Iot stands for Narrowband-Internet of Things. This network uses low power wide area (LPWA) technology to connect IoT devices. Battery powered devices can last months or even years on a full charge with NB-IoT. NB-IoT has three different deployment options: in-band, guard band, or stand-alone. This network option also has widespread penetration allowing for connectivity inside dense buildings with thick walls. Our network provider, T-Mobile currently offers NB-IoT connectivity with expanding coverage.
5G
Commercial 5G services is the most recent network update. The IoT industry is expected to experience the most benefits from this network improvement. 5G opens the door to new IoT opportunities such as remote surgeries, patient monitoring, and smart factories. 5G has the highest bandwidth and lowest latency compared to past networks. Depending on your IoT industry, 5G availability will help your business achieve untapped potential.
Stay informed
We are committed to keeping our customers connected throughout any and all sunsetting phases. We want you to know that you have options when it comes to switching network speeds. Our data plans rely on top-tier partners who provide wide coverage and high-speed options for every IoT purpose.