Cellular connectivity is one of the most common and dependable connectivity methods for your Internet of Things (IoT) devices. To connect these devices to a carrier, it needs a Subscriber Identity Module – otherwise known as a SIM. SIM cards come in a variety of types and sizes. The kind of SIM that is needed will depend on your IoT device's objective, function, and design.
In this article, we'll explain the different types of SIM cards available and describe when you might choose each one for your connectivity needs.
SIM Card Technologies
Recognizing SIM card differences first means understanding how the various types work. There are a few different SIM card technologies that are regularly used today including SIM cards and chip SIMs. We'll also discuss eSIM technology because it's quickly becoming another standard in SIM connectivity.
SIM Cards (UICC)
The first and arguably most recognizable is your standard SIM card technology. These Universal Integrated Circuit Cards (UICC) are minuscule, plastic memory chips that slide into a device. SIM cards are used routinely to connect IoT and non-IoT-related devices such as phones, laptops, tablets, and many other types of devices. They typically come in four different SIM card sizes. The size you need will depend on the hardware configuration of your device or devices.
Chip or Embedded SIMs (MFF2 UICC)
The second type of SIM card technology is formerly called Machine-to-Machine Form Factor Universal Integrated Circuit Cards (MFF2 UICC) but nicknamed embedded SIMs or chip SIMs. The connectivity technology essentially works the same as UICC SIM cards, but where they differ is the way it's installed. Unlike a regular SIM card that can be slid in and out of a device, a chip SIM comes in one standard size and is vacuum-sealed and soldered directly onto a device's circuit board during manufacturing. This permanently installs the chip SIM onto a device providing some additional benefits. Because it's embedded in the device, the chip SIM is less likely to be tampered with, adding an extra layer of security. It also gives the chip SIM more protection against corrosion, constant motion, and other outside elements, giving it a longer life cycle than a traditional SIM card might have. These benefits make chip SIMs ideal for IoT or M2M devices outdoors or on the move such as fleet vehicle cameras, drones, outside alarms, and more.
eSIMs (eUICC)
eSIM technology is the new kid on the connectivity block. An eSIM or an Embedded Universal Integrated Circuit Card (eUICC) essentially takes the traditional SIM card and makes it digital. An eSIM can still come in all the SIM card sizes of a UICC or MFF2 UICC SIM, embedded or non-embedded, but it's reprogrammable. eSIMs allow easy switching between mobile carriers with Over The Air (OTA) provisioning. What does this mean for IoT and M2M connectivity? Better connections, lower costs, stronger security, easier bulk device management, and more. While eSIMs are still relatively in their infancy stage, it won't be long before they become a staple technology for connectivity. 
Note: You may also hear the terms iSIM, nuSIM, and soft SIM thrown around, but these are non-standards based SIM technologies. They're uncertified and carry potential security threats. When looking into SIM card technologies, in the short term, it's best to stick with the three we discussed for the most reliable and secure IoT connectivity.
SIM Card Sizes
As mentioned, the different SIM cards we discussed come in various sizes. These SIM card sizes are also called form factors.
SIM cards (UICC) come in 1FF, 2FF, 3FF, or 4FF form factors, embedded SIMs (MFF2 UICC) come in an MFF2 form factor, and eSIMs can come in any of the previously stated form factors. However, it's important to note that the 1FF form factor is no longer used for modern devices.
Here's a quick breakdown of the different SIM card sizes and use case device examples for each size.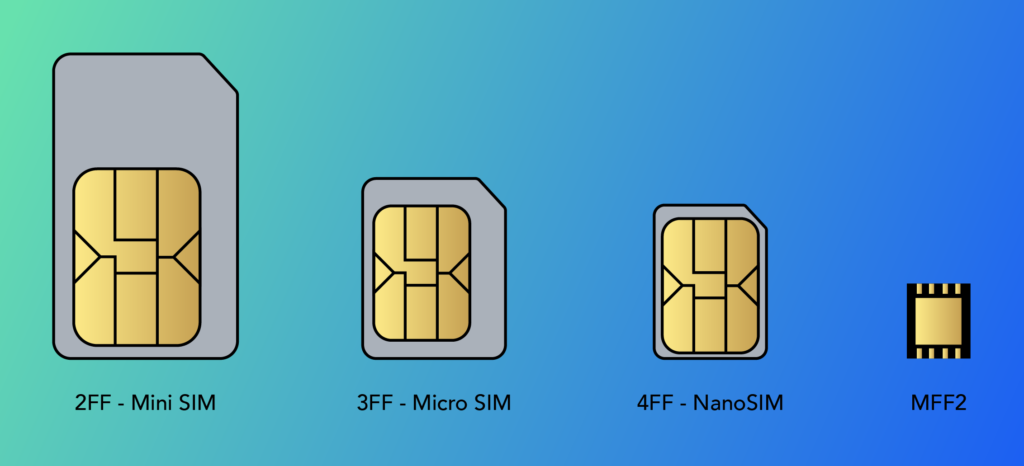 1FF
This form factor is no longer in use for modern devices. It measured 85.6mm × 53.98mm × 0.76 mm (3.370″ x 2.125″ x 0.029″).
2FF (Mini-SIM)
A 2FF form factor, also known as a Mini SIM measures 25mm x 15mm x 0.76mm (0.984″ x 0.590″ x 0.029″). Ironically, even though its name has "mini" in it, it's actually the largest form factor option available today. Because of this, it's best used for larger devices such as ATMs, amusement park rides, or vending machines.
3FF (Micro-SIM)
A 3FF form factor or Micro SIM measures 15mm x 12mm x 0.76mm (0.590″ x 0.472″ x 0.029″). Significantly smaller than the Mini SIM, 3FF form factors are the perfect size for mid-range IoT devices like tablets, routers, and healthcare devices.
4FF (Nano-SIM)
Measuring 12.3mm × 8.8mm × 0.67mm (0.484″ x 0.346″ x 0.026″), the 4FF form factor or Nano SIMs are even smaller and slimmer than its predecessors. It's an ideal connectivity solution for compact IoT or M2M devices like wearables or mobile payment devices.
MFF2 (Chip SIM)
Even smaller still is the MFF2 or chip SIM form factor. Its minuscule size at 6mm × 5mm × 0.9 mm (0.236″ x 0.196″ x 0.035″) allows it to be directly soldered onto a device during manufacturing. Perfect for IoT or M2M devices outdoors or on the move like we mentioned such as fleet vehicle cameras, drones, outside alarms, and more.
IoT SIM Cards Shattering Expectations in Connectivity
SIMON IoT can provide you with all types of SIM cards and SIM card sizes. Whether you're a startup, medium-sized business, or large enterprise, SIMON is here to meet your needs with a customizable, global IoT SIM card data plan for your devices. We set ourselves apart by getting you the data plan you need with a bill you understand. No contracts. No set-ups. No minimums. Just reliable IoT connectivity.Get started right away by picking a data plan with a corresponding SIM or contact us to learn more.